Congratulations Class of 2020!
Recognizing our doctoral students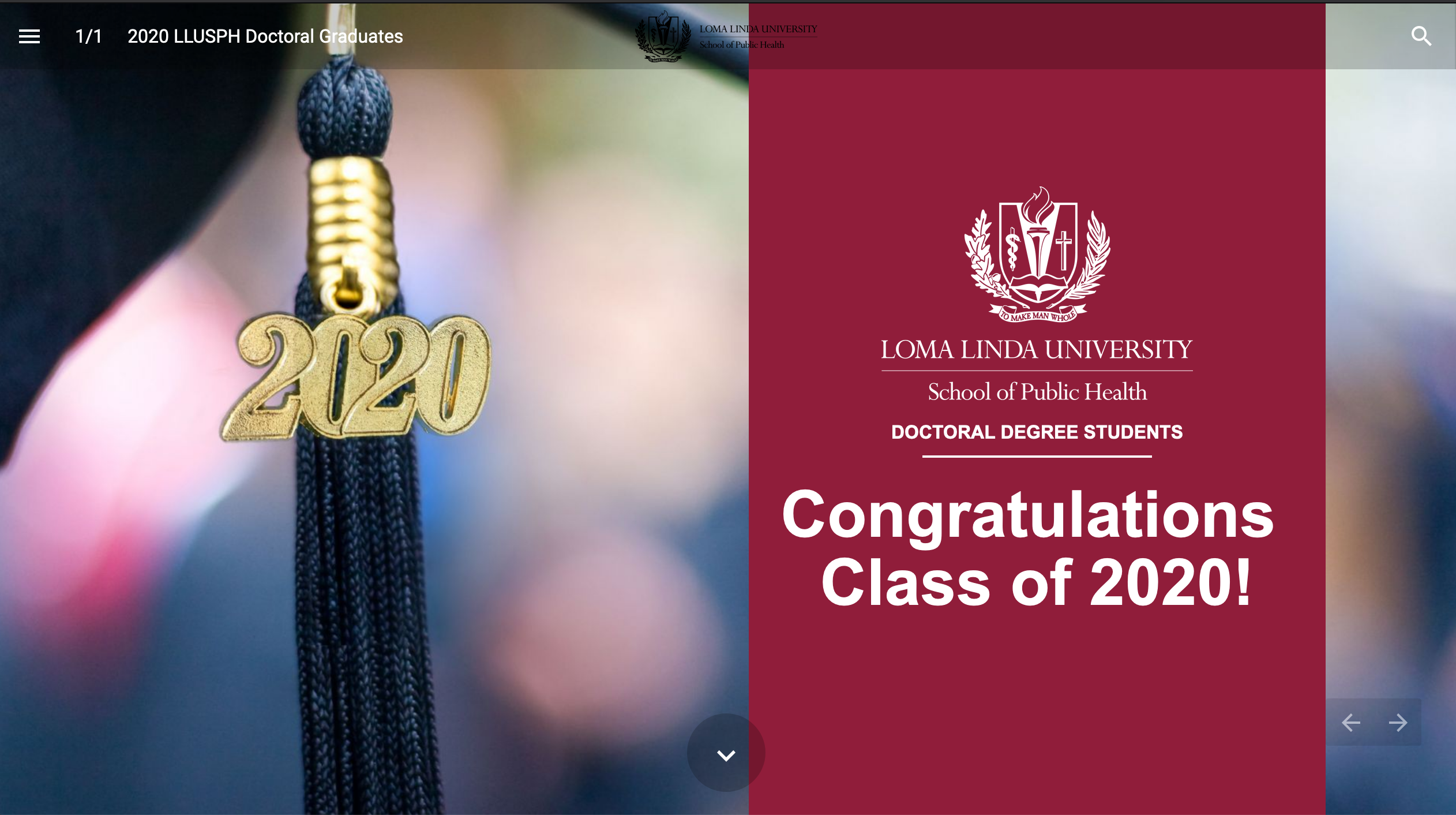 View our doctoral graduates and the projects they worked on to earn their degrees.
A message from LLUH President, Dr. Richard Hart
A message from Dr. Helen Hopp Marshak, PhD, Dean of LLUSPH
A message from Donna Gurule, Associate Dean of Academic Administration, LLUSPH
A message from Ernie Medina to LLUSPH Alumni
A message from the US Surgeon General to 2020 Graduates
School of Public Health 2020 Commencement Events
Corona Virus Update
Due to the public health situation associated with Covid-19, following CDC guidelines and State mandates, the university decided to cancel in-person commencement 2020 ceremonies.
11 For I know the plans I have for you," declares the Lord, "plans to prosper you and not to harm you, plans to give you hope and a future. Jeremiah 29:11
SPH Awards
Digital Recognition on SPH Website
Certificates will be mailed to student awardees
Please take a picture with your certificate and email it to Caitriona Sansonetti (records.sph@llu.edu)
Virtual Recognition of Graduates
Doctoral Recognition Webpage
Cap & Gown for Graduates Only
Our provider has begun shipping your academic regalia; you should receive it between now and July 22nd. For those being sent internationally, it may take a little longer.
We'd love to share pictures of you in your regalia, to celebrate with you. If you have Instagram or Facebook and choose to post, tag @llusph
Contact 
Contact us if you have questions regarding the School of Public Health graduation events. For more information about graduation weekend, please contact the SPH Office of Academic Records, Nichol Hall room 1515, Phone: (909) 651-5378 or email records.sph@llu.edu.
Loma Linda University Graduation Links: