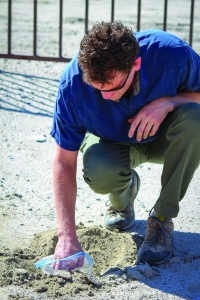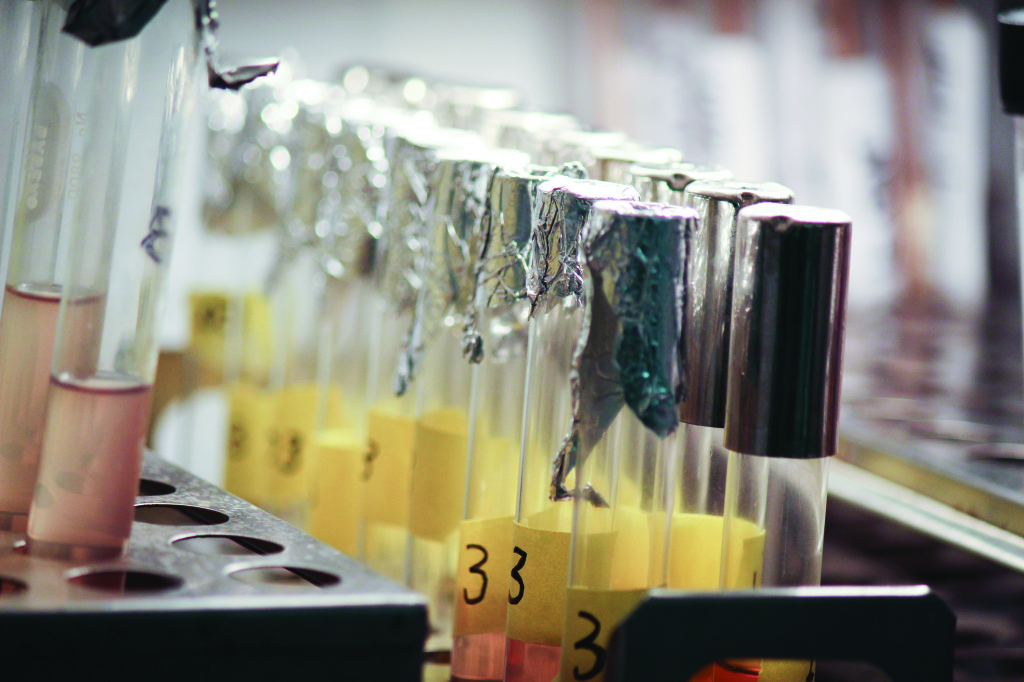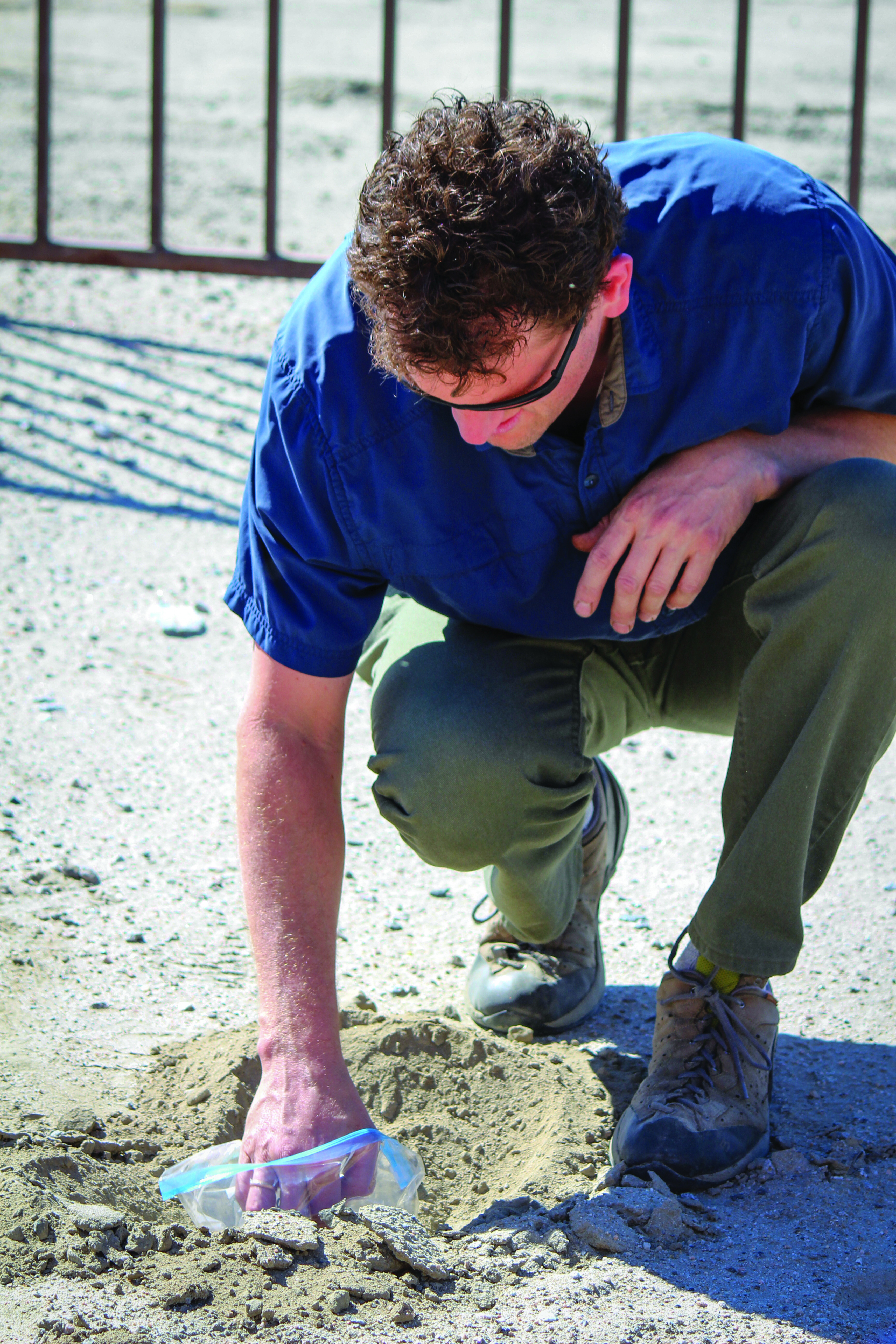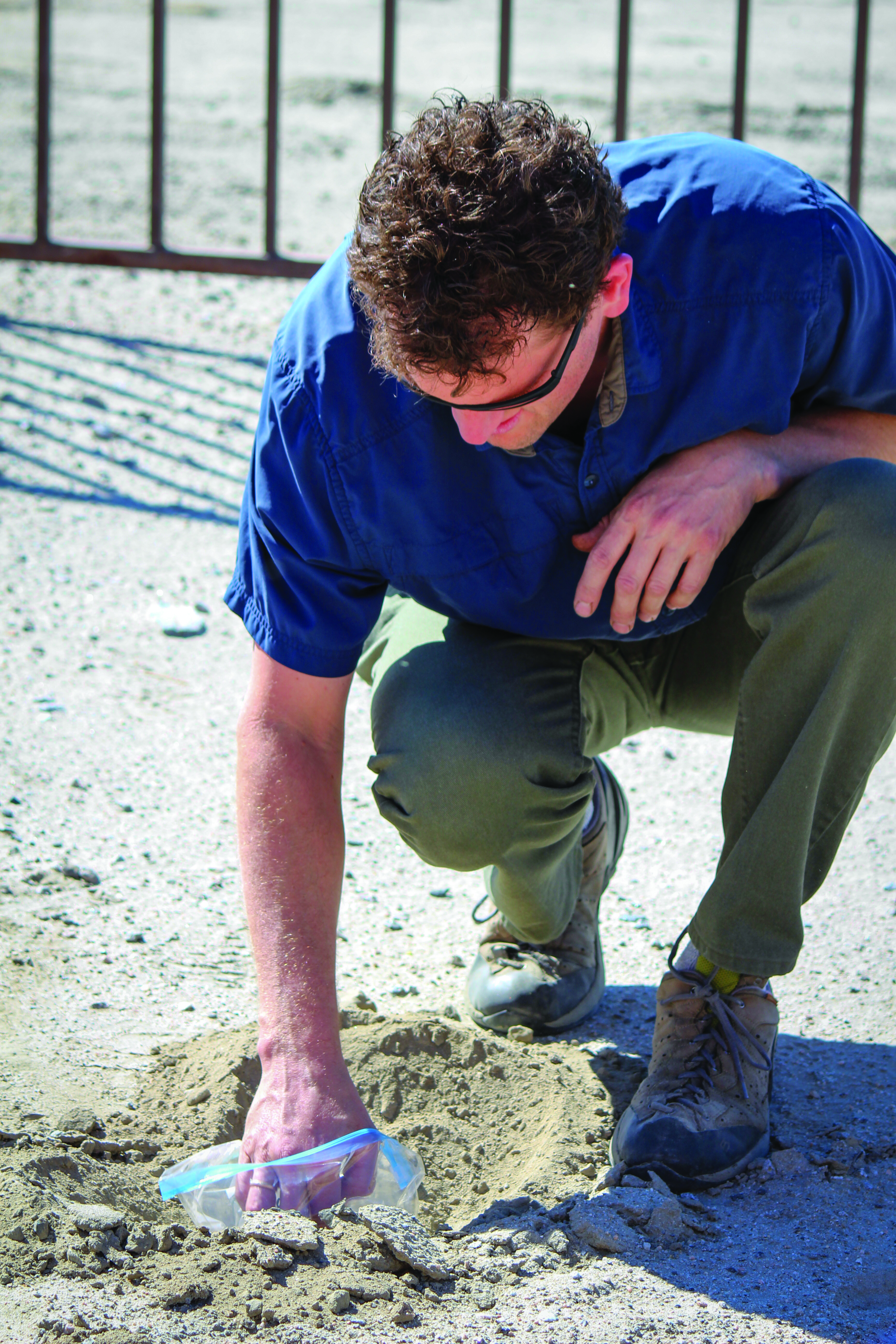 By migramirez - June 24, 2014
There is a certain beauty in the desert that one needs to be careful of if they plan to stop and admire it.  A flat tire in Loma Linda is not the same as a flat tire in the desert.  Driving out to the Coachella Valley from Loma Linda you will pass Casino Morongo, mechanical dinosaurs, fields of windmills, and Palm Springs.  Squinting, you might see hawks circling in the sky above while a tidal wave of dust blurs the horizon.  A stark beauty framed, respectfully, by death. What you might not notice are the nearly invisible trailer park communities in the distance, dotting the landscape and breaking up the endless sea of sand and rock.  The Coachella Valley, perhaps most famous for one of the largest concert events in the nation, is also home to one of the most underserved, hardest working populations. Ryan Sinclair, PhD, MPH, Assistant Professor, Environmental Health and Geoinformatics Sciences, makes regular trips out to the Coachella Valley to test ground water for contaminants and pollutants.  Working on petitions and changing legislation to improve the water quality in these communities, Dr. Sinclair works closely with Pueblo Unido Community Development Corporation (PUCDC) of the Eastern Coachella Valley.  He is the science behind these policy changes. During his trips out to the trailer parks in the Coachella Valley, Dr. Sinclair has also partnered with other community organizers and nonprofits to help improve the water quality in these desert communities. These tiny mobile home oases range from 13-trailer homes or fewer to more than 10,000-occupant parks.  The one thing many of these clustered communities lack is the one thing that defines an oasis; drinkable water.  The trouble is, only the federal government can regulate Native American land and that is exactly where some of the larger trailer parks happen to be.  Dr. Sinclair has come up with simple water filtration systems to remove arsenic and other contaminants that can be built, operated, and maintained easily by these community members. Dr. Sinclair was born in Oberlin, Ohio but moved to Desert Hot Springs, California at the age of four.  "Spending my childhood years in the desert turned me into a desert rat, so I know how the community folks live out there," says Dr. Sinclair, "I can relate to them a little more."  Like the landscape in which he feels at home, Dr. Sinclair's conversation is simple and stark, leaving no room for anything superfluous. "These communities [in the Coachella Valley] deserve clean water but most of the time they are ignored by politicians and legislators."  Yet his tell-it-like-it-is personality is not a show, and like the desert, there is no room for the unnecessary. Currently working on the Integrated Regional Water Management Project (IRWMP) and the Metropolitan Water District Crowdsourcing project, Dr. Sinclair has gotten more than his feet wet in water quality projects.  In the near future he will begin working on a project with the Santa Monica Urban Runoff Recycling Facility.
Samples of water taken from ground water in a trailer park community in Coachella contain pesticides from nearby crops, arsenic, E. coli, and listeria.