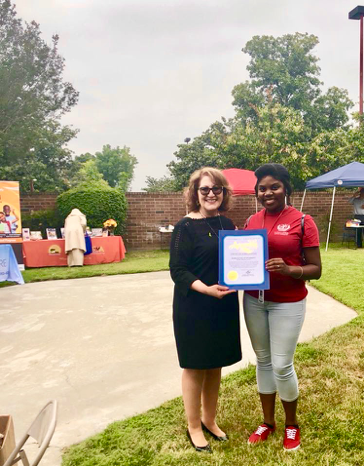 By mjchapman - June 8, 2018
On May 19, 2018, Loma Linda University was recognized by Assemblywoman Eloise Gómez Reyes, a member of the California State Legislature, for leading the 2018 SBC-MORE Health Fair in Highland. This event was an endeavor to increase access to health care and health coverage for the residents of San Bernardino County. Community members were able to enroll in Medi-Cal; obtain information on healthy lifestyle practices; receive screenings for blood pressure, blood glucose, and BMI; and consult with physicians. Assemblywoman Reyes visited this event to deliver the certificate of recognition in person and to thank LLU for its significant impact in the community. ​
In January 2015, Loma Linda University School of Public Health faculty, Sherma Charlemagne, PhD, and Edward McField, PhD, received a grant from the County of San Bernardino to implement the SBC-MORE (San Bernardino County Medi-Cal Outreach, Renewal & Enrollment) initiative. The project was created with the goal of promoting health equity in San Bernardino County by increasing access to healthcare for vulnerable populations. Three years later, in 2018, the project has accomplished this goal by assisting thousands of individuals in completing the Medi-Cal enrollment process and navigating the healthcare system.​
Since its inception in 2015, SBC-MORE has reached over 60,000 people in San Bernardino County. Additionally, over 21,000 individuals expressed interest in learning about Medi-Cal at SBC-MORE events and enrollment hubs. SBC-MORE has assisted over 7,200 people in completing Medi-Cal applications. Furthermore, over 850,000 contacts were made to remind and assist Medi-Cal beneficiaries to renew their insurance coverage. ​
"While there is much discussion at the national level about health care and access by individuals to a health care system, it may at times be easy to forget the impact that lack of access may have on an individual or family." Said Albin Grohar, PhD, LLUSPH. "Through a partnership with Loma Linda University's School of Public Health, and a series of other private and public agencies, SBC-MORE maximized the enrollment and re-enrollment of Inland Empire individuals and families." ​
County departments involved in this partnership include The Department of Public Health, Transitional Assistance Department, Sheriff's Department, and Arrowhead Regional Medical Center. Community partners involved include leaders and outreach workers from the African American Health Coalition, Congregations Organized for Prophetic Engagement, the Center for Community Health Policy Advocacy, El Sol Neighborhood Education Center, and Inland Empire United Way 2-1-1. ​
"Through this contract, San Bernardino County has continued its efforts to increase Medi-Cal outreach to individuals who are eligible, but not enrolled in Medi-Cal and promote retention among targeted eligible populations. Noted Brizza Ramirez, Supervising Program Specialist Human Services Program Development Division. 
At a recognition event for SBC-MORE partners and volunteer in December 2017, SBC-MORE was able to applaud partners for their collaborative accomplishments. "The SBC-MORE project has been a force for good in our community." Said Pastor Benjamin Briggs, C.O.P.E. Senior Organizer and Director of Civic Engagement. "Thousands of families and individuals have found a ray of hope when they discovered that their medical needs were neither forgotten nor forsaken. The entire team at COPE is grateful for the opportunity to connect with San Bernardino County, LLU and all of the other organization who worked so tirelessly to make the program a success. We would especially like to thank LLU for the acknowledgments and awards at the recent award dinner. We look forward to every opportunity to partner with LLU in the future."
"Being recognized at the SBC-MORE event gave me a sense that my work does not go unnoticed. That the effort that I put into every person I talk to is acknowledged by others", noted El Sol Outreach Worker, Luis Marroquin. "Beyond being recognized I am filled with great appreciation for the work that I am allowed to do with the community and the impact that SBC-MORE has made in my life and in the lives of others. I can truly say that I am proud of being a part of SBC-MORE."​
In addition to recognizing community partners, during the event Dr. McField acknowledged the contributions of Crystal Valentine MPH, Project Manager, and Chintan Somaiya, MBA, Development Manager. They were recognized for their strong public health sensitivity and for their roles in the grant's implementation and success in reaching the thousands of individuals and families.​
The celebratory meeting ended with an exhortation by Dr. McField to continue working on behalf of vulnerable population. "It has been a marvelous experience developing and leading this very unique initiative, while working with the county and community-based organizations. This initiative is a testament to true community partnership", said Dr. McField.  ​
Through this contract with Loma Linda University School of Public Health (LLU), San Bernardino County has continued its efforts to improve population health by increasing enrollment and participation in Medi-Cal, California's Medicaid program which serves low-income individuals, including families, seniors, persons with disabilities, children in foster care, pregnant women, and childless adults meeting income requirements.​
For more information about SBC-MORE visit: www.sbcmorecares.org