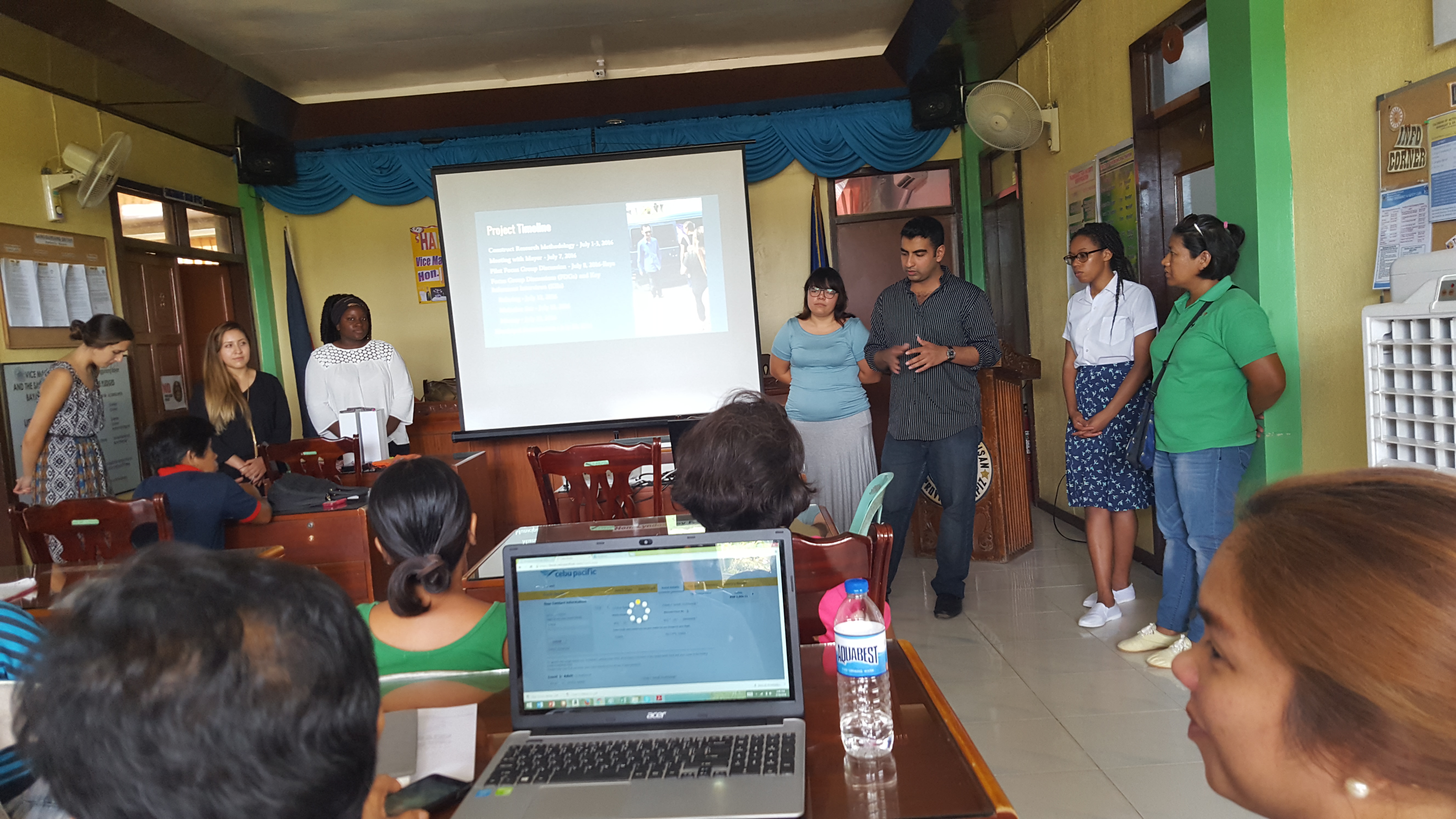 By kfreeland - January 9, 2017
Written by Suhail Hashim, MPH Global Health student
 
"The world is a book and those who do not travel read only one page." –St Augustine
When I got my acceptance letter for admission in the Global health MPH program at Loma Linda University School of Public Health in 2015, the Integrated Community Development course, more popularly known as ICD, was something I was particularly excited about. The ICD course is a culmination of the Intervention in Community Health and Development course - one of the major classes for students of Global Health during the first three quarters of the academic year. For the ICD course, students travel to a foreign country to practice the skills learned in the Interventions class. ICD provides students with a real-world setting to apply their knowledge and skills, thus, giving us a taste of a career in global health. My cohort participated in a three-week trip to the Philippines.
From the first academic quarter in the fall, Global Health students are anticipating the ICD trip, even though it's several months down the road.  For my cohort, one of our professors hosted a potluck in which the second-year students shared their recent experiences in the Philippines with us first-years. We heard many fun stories about chasing rats in guest house bedrooms and treating mosquito bites, as well as the serious work of collaborating with the local partner for the project: The International Institute of Rural Reconstruction (IIRR). Listening to these students' experiences stirred mixed emotions in us: on one hand we were excited at the idea of traveling to a new country and learning a new culture; on the other, the size and importance of the task ahead overwhelmed us.
Discussions about the ICD trip continued throughout the first three quarters of our program. By the end of spring quarter we completed our pre-course assignments which gave us an idea about Philippines culture, health care, politics and economy. We also tried to learn some Tagalog (a local language in Philippines) with the help of a classmate who originally hails from Philippines. "Salamat" – Tagalog for "thank you" – was the easiest to memorize. Finally, we got the blueprint for how and what we would be doing in the Philippines:  a project to assess how rural Filipinos perceive the relationship between climate change and health.
Our much anticipated departure came at the end of June 2016, leaving Loma Linda to Los Angeles International Airport (LAX) with our instructor Helen Young. All the other passengers on our flight were Filipino, and they were curious about our diverse group of students: Caucasian, African-American, Latino, Asian, and Indian. When they learned we were traveling from Loma Linda University to the Philippines to work on a project, we were provided with some useful instructions and tips for a safe stay. Some of those were to stay in groups all the time, avoid street foods and beware of pickpockets. Coming from a developing country like India, these instructions made perfect sense to me. When the 14-hour flight finally landed in Manila, staff from IIRR were there to escort us to their regional office in Silang, Cavite. I'd heard about IIRR from our professors and second-years, but wasn't prepared for the size and quality of their campus.  The organization's philosophy impressed me—to serve the community, we need to understand and engage them first. IIRR expected us to work with the same intention in mind.
 
Our task was to conduct a mixed method of needs assessment on how climate change and health are perceived by the rural community in two different sites: Ivisan and Quezon. The target population for both places was fisherfolk–the local term for fishermen–and farmer. The interesting part to me was that IIRR and our professors left it to us to draft the project methodology, how the project would be accomplished.
The plan was this; during the first week, we the students would draft the project methodology. Beginning the second week, students would split into two teams with one professor in each group. The two groups would then travel to their respective sites for data collection. The two specific rural sites to collect data were Ivisan, Capiz and Guinayangan, Quezon.  In each site, the same methodology would be applied. The final week, both teams would come together to present and discuss their findings in the presence of IIRR.
 
Keeping in mind the philosophy of IIRR, community engagement, and after reviewing some of their past work, we settled on a qualitative method of key informant interviews and focus groups to conduct the assessment. The key informant interviews were one-on-one sessions to be administered for community health workers, nutritionists, and environmentalists; the focus groups, interactive group discussions with a facilitator, were to be conducted for local fisherfolk and farmers.  The focus group questions centered on what the community felt about the changes in temperature, diminishing rainfall and decreasing crop yield, and how they felt it affected their overall health. We made sure that the questions were not leading in nature to get the information from the community in its purest form.
During our week-long stay in Silang, we also visited the International Rice Research Institute (IRRI; not to be confused with IIRR!) and gained some useful insights about rice farming using the Climate Smart Agriculture (CSA) approach. Developed by the Food and Agriculture Organization, the CSA approach focuses on sustainable agriculture with low environmental impact.
The IIRR officials planned such visits to ensure we received a  broader picture of the organization's goals; in fact, the data we collected from the two assigned sites is being used by IIRR to support and strengthen their rural communities with the assistance of various stakeholders like IRRI (remember, different from IIRR!). So, we finalized our initial draft, incorporating suggestions given by IIRR, then presented our report to the IIRR officials. Then the students broke into their groups and left to their respective sites. 
My group was assigned to the Ivisan site, a small village in the province of Capiz.  One thing which struck me was the impact of Typhoon Yolanda which hit the archipelagic country (a country comprising a series of islands) in 2013. Locally referred to as Typhoon Haiyan, the storm destroyed the lives and livelihood of many communities in certain regions. Those who depend on farming and fisheries were particularly affected. Even after three years of ongoing relief work by the Philippine government and private non-governmental organizations (NGOs) like IIRR, some communities in Ivisan were still recovering from the damage caused by this typhoon. A review of literature confirms the role of climate change in spawning Typhoon Yolanda due to temperatures rising, an effect of global warming which causes the expansion of bodies of water and subsequently leads to such disasters. I was to hear directly from the farming and fishermen community their perceptions of the role of climate change related to their health. 
In our air conditioned hotel room in Ivisan, we worked late each night polishing scripts for focus group discussions (FGD) , key informant interviews (KII), and supplementary tools like a seasonal calendar  and problem solution tree. Since IIRR asked our two groups to produce a cohesive document, we occasionally skyped the other group in Quezon to make sure we were all on the same page.  On the second day in Ivisan we conducted a practice FGD to identify any problems with our script so that we may recognize and rectify them before the official focus group with the fisherfolk and farmers.  
For the next few days we conducted FGDs and KIIs and collected a significant amount of data. On the whole, the community agreed that climate change is real and directly or indirectly affects the health of the population. Higher temperatures, personal hygiene, garbage segregation and poor access to water were the most frequently mentioned concerns affecting their health. The participants also observed certain diseases such as dengue, diarrhea, and skin diseases in specific weather conditions.  From the data given by health professionals and other authorities during key informant interviews, the link between climate change and health became evident. One example: due to poor access to clean water, some farmers and fisherfolk limited the use of water for washing and bathing, but actually due to hotter weather and increased perspiration, the need was to bathe more than once a day to stay healthy. This may have caused an increase of skin related diseases like eczema.
On our last day in Ivisan, we presented the results to local officials, then headed back to the IIRR office in Silang where we met up with the Quezon group for our final presentation.
There are couple of things that I learned from my ICD trip; Firstly, it's about traveling. As renowned Persian poet Rumi puts it, "Travel brings power and love back to your life." Converting dollars for Filipino pesos, searching for food (as it was a bit difficult to find food for my taste), learning about a new culture, interacting with its lovely people, and experiencing nature's bestowed beauty in this country definitely brought back power and love to my life.
Secondly, teamwork was crucial to our success in the project, and the cooperation, patience and flexibility which come with it. I had colleagues who were gifted with various talents and skills―one of them was good at crafts, another had good writing skills, the rest were gifted with communication, logistics and interpersonal skills.  With my nursing background, I was able to better comprehend the health conditions and its determinants.  It was the amalgamation of these skills that produced great outcomes. It was an experience which brought to life the African Proverb, "If you want to go fast, go alone, if you want to go far, go together."
The bottom line is that together, our group saw first-hand that the effect of climate change is happening. The insights from the community in Ivisan, coupled with the information gathered at the rice institute, left no doubt in my mind of climate change's impact and that human activity is the primary reason. 
We presented our final report to IIRR, sighed with satisfaction and relief, and left for the Manila airport.  For everything we learned in the Philippines, to the friendly people we met, for the beauty of the country we enjoyed, two words summed it up: "Salamat po."