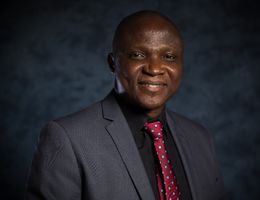 By mjchapman - October 2, 2019
LLU School of Public Health grad is helping change African health care from a distance
Danjuma Daniel, DrPH, works to improve life in villages like his hometown
A 2018 graduate of Loma Linda University School of Public Health says the knowledge and skills he gained while earning two degrees in health policy and leadership are helping him make life better for people in Africa.
Daniel's main focus is on building capacity for a variety of projects. One of them involves training 15 young Africans from 11 different countries in biomedical equipment technology. "They are being trained in the procurement, maintenance, and repair of hospital equipment for our numerous mission hospitals across Africa," Daniel says, adding that the training site is located at Valley View University in Ghana. 
He is also making plans with the LLU School of Allied Health Professions and the LLUH emergency medicine department to develop training programs for young Africans in other professional specialties.
Ironically, Danjuma Daniel, DrPH, MPH, assistant professor at the school, manages to do that without leaving his office in California. "I am able to do more for the people of Africa right here," he says, "working through Adventist Health International with a lot of help from other Loma Linda University Health entities. If I was in Africa, I wouldn't be able to do this."
Daniel's work at this stage is focused on empowering educated Africans to effect positive change on his home continent. "Education plays a very important role in developing local capacity," he says. "That's why I'm developing programs with partner universities in Africa."
He adds that lack of economic growth in rural communities limits sustainability. "In the past, the Seventh-day Adventist church built a lot of hospitals in villages in Africa. Yet, after all these years, the people in those communities still suffer from a lot of inequities. You can help them now, but what about when you leave? Will they still be as disadvantaged as when you first met them?"
He believes a better solution is to invest in talented people in the cities. "In Africa, if one person has a good job, they help all the members of their immediate and extended families. So why not capitalize on that situation?" he asks. "Teach the ones who are successful and they will in turn help the communities they came from."
Although he was born at Jengre Seventh-day Adventist Hospital in rural Nigeria, Daniel says he couldn't live there now. There aren't enough resources to allow him to do his work. But from an early age, he heard stories from his father, one of the only literate indigenous pastors in northern Nigeria at the time, about the larger world outside his village.
"He had a degree," Daniel says, "and was always on the road, driving around the region to serve his fellow pastors."
After the family moved to Lagos, Daniel completed elementary and high school there before transferring to the Adventist Seminary of West Africa — known today as Babcock University — where he majored in religion and minored in business administration. After graduating with a BA degree in religion, he was hired as the personal assistant to Greg Saunders, MD, a Loma Linda University alumnus.
Saunders was a busy man. Besides serving as surgeon and medical director for the Adventist hospital in Ile-Ife, he was also acting director of the Adventist Development and Relief Agency for Nigeria, and director of Adventist Health Services, the former coordinating organization for all the Adventist Health facilities in Nigeria. As if those were not enough, he had additional responsibility for developing the family medicine residency for the entire continent of Africa.
"The few times he had left to do administrative work were when we were traveling," Daniel says. "As his personal assistant, I drove while he worked. It was usually between 5 and 10 hours of driving."
Daniel is grateful to Saunders and his own parents for sponsoring his continuing education at Southwestern Adventist University in Keene, Texas. After Daniel completed his MBA, he returned to Nigeria in 2002, intending to work with Saunders again. But after 10 years of service, it was time for Saunders to wrap up his work in Nigeria, so he returned to the United States.
The timing proved providential for Daniel. "That same year, I met Dr. Hart when he came to Nigeria to start Adventist Health International (AHI) there," he says, mentioning Richard H. Hart, MD, DrPH, the president of both Loma Linda University Health and AHI.
"I was made associate director of finance for AHI Nigeria," Daniel says. "One year later, I was made business manager of Ile-Ife Adventist Hospital. I was there for almost 10 years. Then I got a scholarship to Loma Linda University School of Public Health in health policy and leadership."
When he arrived to start the DrPH program, however, Daniel found that school officials had put the program under a two-year review process. Undaunted, he used the time to get his MPH degree at the school.
When he graduated with his MPH degree in December 2013, the DrPH degree program was ready to re-open and Daniel resumed his studies in 2014, while simultaneously enrolled in a two-year management residency at Loma Linda University Health. The residency allowed him to work with key leaders in business development, human resource management, and construction, as well as AHI and the Faculty Medical Group.
Daniel says the ability to confidently develop and implement public health policies in Africa by applying leadership skills learned during his doctoral studies has been the biggest benefit of his education. 
"Apart from my position as assistant professor at LLU School of Public Health, I also serve as project manager for several projects in low- and middle-income countries," he reports. "My skill set helps me to engage the multidisciplinary programs within Loma Linda University Health to advance capacity development in those settings."
When asked about the future, Daniel says he and his wife, Tomi, an attorney and international development expert, are passionate about humanitarian work that impacts the lives of people in resource-limited communities.
"I see myself doing this for a long time," he says. "My dream is to expand the capacity building in partnership with healthcare and academic institutions across Africa. I would continue to depend on Loma Linda University Health and AHI to make this dream come true."