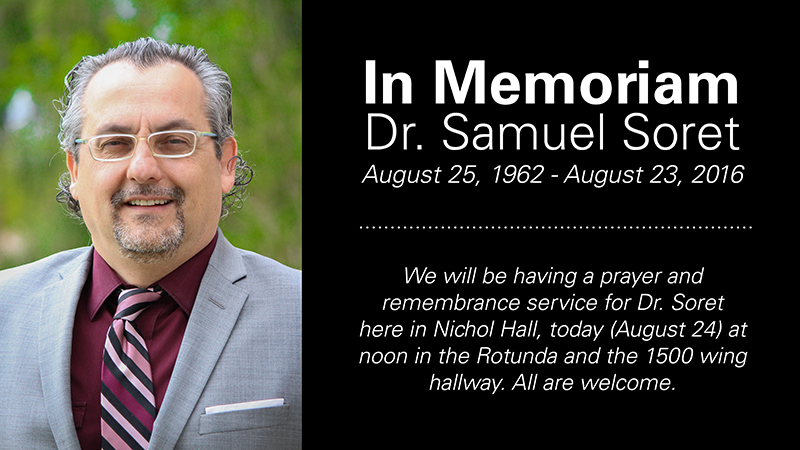 By migramirez - August 24, 2016
It is with deep sorrow that the Loma Linda University School of Public Health informs you of the passing of Dr. Samuel Soret, PhD, a beloved colleague, professor and friend. He passed away from a heart attack while on a trip to Spain on Tuesday, August 23, 2016. Dr. Soret faithfully served the School of Public Health for 21 years, most recently as Associate Dean for Research and Executive Director of the Center for Community Resilience. The funeral services for Dr. Sam Soret will be on Friday, August 26, at 1 p.m. in his home town of Calahorra, Spain at the local Seventh-day Adventist Church. The president of the Adventist Union will officiate at the services. Dr. Joan Sabate is in Spain, and plans to attend and participate, representing all of us as friends and as SPH. The burial will be in Spain.
We will be having a prayer and remembrance service for Sam here in Nichol Hall, today (August 24) at noon. We have moved it to the NH Rotunda, and the NH 1500 wing hallway. All are welcome. We have grief support counselors and pastoral staff in NH 1710 (the conference room in the Administrative wing). They are here to serve us in this time of grief and mourning for our friend, mentor, and colleague. Each of us grieves not only for the passing of a tremendous individual but also for the loss his family suffers. Thank you for your prayers.