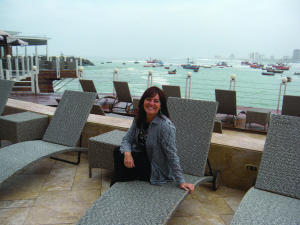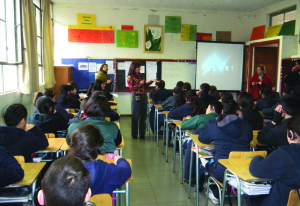 By migramirez - October 22, 2014
The little boy sat on the curb, his mind blown by a new highly addictive street drug. He used to play on the soccer field with his friends after school, stretching practice as long as he could before dinner. Just eight years old, his love of athletics had disappeared, along with many friendships when he began using "pasta base," a byproduct of cocaine processing.
"As the problem of drug use in very young children grew in Chile, government officials were determined to take action," says Pam Luna, DrPH, an alumna of Loma Linda University School of Public Health. "Convinced that this was a major threat to the region's most vulnerable population, officials began to search for ways to protect children, many as young as seven or eight years old."
The Chilean Ministry of Education was among the groups that began working with the U.S. Embassy in Santiago to identify solutions. The collaboration resulted in an invitation for a delegation from the United States to visit Chile in 2012. During the visit, three U.S. experts representing various programs designed to decrease and prevent drug use among children met with Chilean government officials and teachers. Presentations were made in cities including Iquique, Rancagua, Santiago, and Valparaiso.
In addition to Dr. Luna, the 2012 delegation included Patricia Morales, EdD, educational specialist and expert on prevention program for children ages six to 11; and Christopher Williams, PhD, consultant to the drug prevention program "Life Skills Training."
"As a result of our delegation's work," says Dr. Luna, "the Chilean government passed a bill mandating that drug use prevention education be taught in the country's schools."
Earlier this year the United States Embassy notified Dr. Luna that officials, impressed by her presentation, had selected Project ALERT to be taught in public schools throughout Chile. In addition to working as a master trainer for the program, Dr. Luna worked with the RAND Corporation, a nonprofit, to develop the two-year, school-based program.
"Project ALERT lessons and support materials are made available online at no cost. So the primary cost will be the actual in-person training of the teachers," she says. The program provides relevant information and motivation and teaches skills to kids so they can resist the pressures to use drugs.
"I'm delighted that the program will be taught in Chilean schools," says Phyllis Ellickson, PhD, the pioneering drug education researcher at RAND, whose work resulted in Project ALERT earning the top "exemplary program" rating from the National Registry of Evidence-based Programs and Practices. "There couldn't have been a better representative than Dr. Luna. She and her work are now in South America, percolating; the seeds have been planted. I think it will continue to grow."
Chile wants to begin implementation in 2014 so plans are underway to bring Dr. Luna and her team to conduct several teacher trainings before the end of this year.  Dr. Luna's enthusiasm remains high. "While South America is known for the role it plays in drug trafficking," she says, "there is growing support for prevention. It was a privilege for our delegation to bring to Chile what we have learned in the United States, and I am looking forward to leading a team to Chile later this year."
Until her visit, there is much to keep Dr. Luna busy. She owns a consulting business, working with individuals and communities to promote health and well-being, and is a Governing Council member for the American Public Health Association, the largest association of public health professionals in the world.
She is convinced that the education she received at Loma Linda University built the platform for her success as she works to impact health in the United States and abroad. "Loma Linda University's holistic approach to health is powerful and essential toward instituting sustained and effective interventions," says Dr. Luna. "That's the added value of attending this University—it has served me and others well. "
"As a student," she says, "you go to Loma Linda to learn, develop, and grow. Drs. Joyce Hopp and Jerry Lee pushed me to go beyond what I thought I could do—they were true mentors. Graduation is a send-off into the world to do good and make a difference and give back and come back and share. It's always good to visit Loma Linda; it's like coming home."