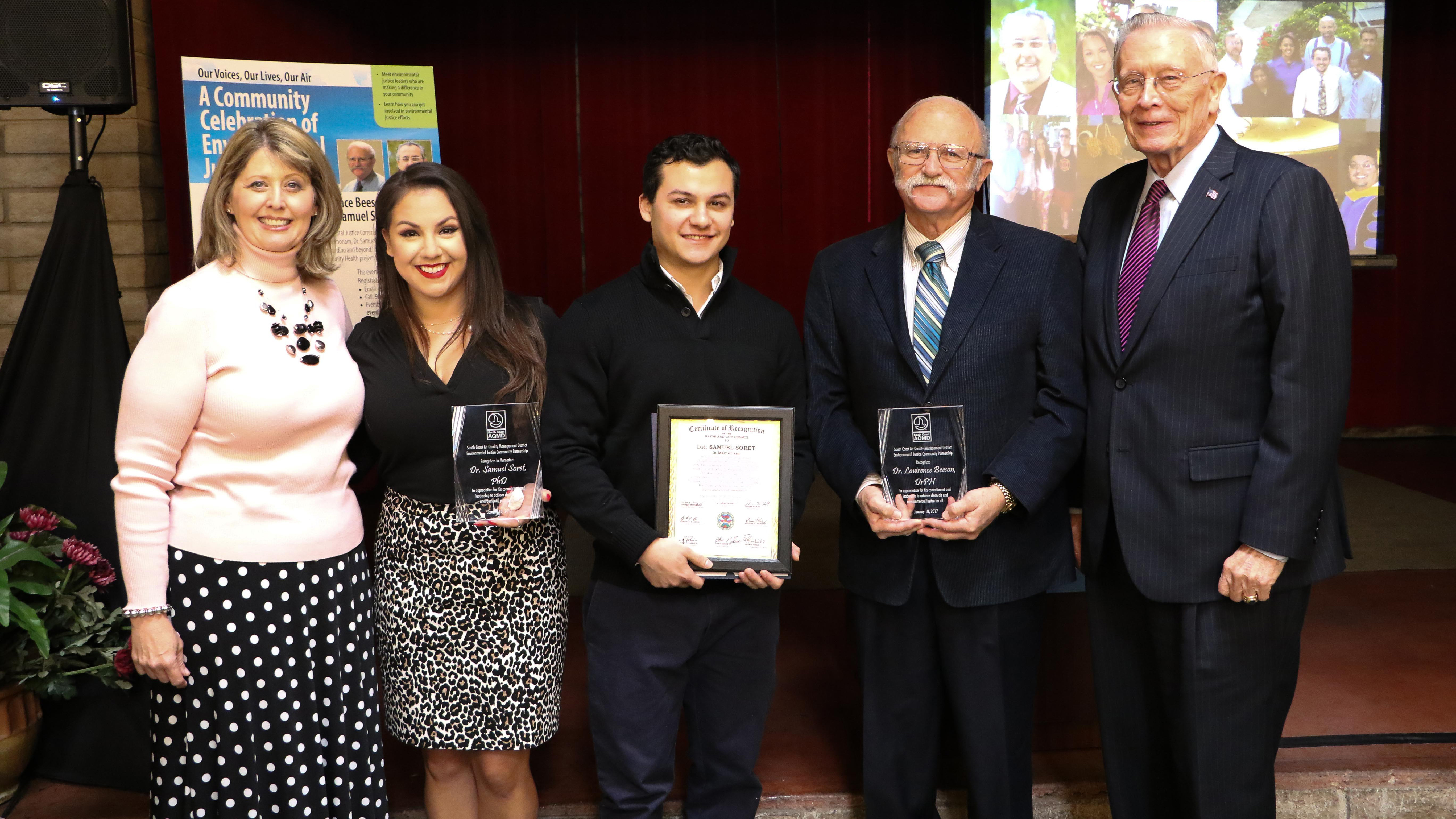 By mjchapman - January 19, 2017
On January 18, 2017, the South Coast Air Quality Management District (SCAQMD) held a ceremony that honored two faculty from the Loma Linda University School of Public Health; Dr. Larry Beeson, DrPH, Epidemiologist and Dr. Sam Soret, PhD, Environmental Health Scientist. The SCAQMD is the air pollution control agency for all of Orange County and the urban portions of Los Angeles, Riverside and San Bernardino counties.
Dr. Beeson attended the ceremony with his wife and said he felt honored to be receiving recognition for his work. Dr. Soret was also recognized posthumously for his contributions to air quality improvement. His daughter, Carmen and son, Adam, accepted the honors on his behalf.
Both Dr. Beeson and Dr. Soret were recognized for their research and interventions related to air quality within San Bernardino county. Both had been a part of the Environmental Railyard Research Impacting Community Health (ENRRICH) Project, or sometimes referred to as the Railyard study.
The honors were presented to Dr. Beeson and Dr. Soret's children by Janice Rutherford, SCAQMD board member and Supervisor, San Bernardino County – Second District. Also in attendance at the ceremony were the Dean of the LLU School of Public Health, the Mayor of San Bernardino and
Carmen, mentioned how proud she was of her father's work and how honored he would have been for the recognition. Adam said he remembered how passionate his father was about social justice, saying, "My father used to tell me that the burden lies with those who understand it. I'll always remember that."
"It's a team effort. We're a very productive air pollution research team that includes David Shavlik, Synnove Knutsen, Susanne Montgomery, John Morgan, Rhonda Spencer Hwang, Penny Newman, Director for the Center for Community Action and Environmental Justice, of course Sam Soret and many more. I'm just a part of the team that's responsible for taking research and bringing it to the community level rather than just leaving the research published in a scientific journal." Dr. Beeson said.
In regards to the future of air quality research at the LLU School of Public Health, Dr. Beeson replied, "Currently some of our epidemiology doctoral students are looking at national air pollution data to see if we can produce better evidence regarding the association between ambient air pollution and adverse health events so policy makers and community leaders can work to improve air quality all over the country."
The ceremony was held just a few blocks South of where the Railyard study took place, in the Mitla Café on route 66 in the city of San Bernardino.