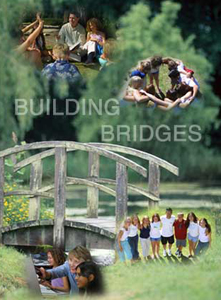 Building Bridges was developed to provide tutoring and mentoring to disadvantaged and underserved students in local high schools and community colleges. Its chief goal is to improve the academic skills of these students giving them the tools to reach their academic goals.
Many of these children lack the academic skills to graduate from high school let alone go to college or trade school. When you ask the young people what they want to do when they finish high school they frequently have no idea, or they simply say they want to find a job somewhere. Many do not consider college as an option because their academic performance is bad and their self-confidence is low.
Recently, we collaborated with several colleges and community based organizations and wrote a grant proposal to address the academic needs of middle school and high school kids in our area. We were not funded, but instead of letting our dream die with the potential funding, we started the Building Bridges Program.
Its mission to:
Prepare disadvantaged and economically challenged high school and junior college students academically thus preparing them to choose professions and/or technical trades, which will encourage them to be productive members of the community; and
To provide role models thus demonstrating the results of perseverance and hard work.
As many as 25 graduate students (master's and doctoral) have tutored students at Pacific High School in San Bernardino and San Bernardino Valley College. Our aim at the community college level is to encourage academic growth whereby enabling students to continue their education at higher levels.