MPH Nutrition with coordinated program in Dietetics
The Master of Public Health (MPH) degree curriculum in Nutrition and Dietetics enables students to meet the didactic and supervised practice requirements for registration eligibility in dietetics. The purpose of registration is to protect the health, safety, and welfare of the public by encouraging high standards of performance by persons practicing in nutrition and dietetics. Students in the MPH coordinated program may establish eligibility to write the registration examination to become a Registered Dietitian Nutritionist (RDN) by completing this program.
If you have your RDN, check out our Master of Science in Plant-based Nutrition program.
In order to become a Registered Dietitian Nutritionist (RDN) individuals must take a credentialing examination administered by the Commission on Dietetic Registration (CDR). The requirements to be eligible to take the CDR credentialing exam include meeting the Accreditation Council for Education in Nutrition and Dietetics (ACEND) requirements through didactic instruction and supervised practice experience. Our program is an accredited coordinated program, which means that students complete both didactic instruction (MPH Nutrition degree along with relevant corequisites) and 1200 hours of supervised practice (1. Public Health Practicum; 2. Food Systems Management Affiliation; 3. Clinical Nutrition Affiliation; 4. Practice within designated classes and labs) within the program. Once they have met all degree and non-degree requirements for the coordinated program, and successfully graduate from the program, they will be eligible to take the credentialing exam. Prior to program completion, students will be required to submit a graduation petition to the School of Public Health Academic Programs Office. Non-degree requirements include a comprehensive examination (public health nutrition), and culmination experience.
More info
.
For more information on registration eligibility requirements for RDNs, click here.
Loma Linda University Academic Calendar • Loma Linda University Course Schedule • Course sequence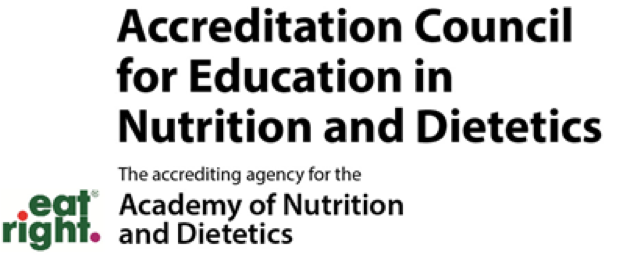 The program is accredited by the Accreditation Council for Education in Nutrition and Dietetics (ACEND) of the Academy of Nutrition and Dietetics (AND).
Accreditation Council for Education in Nutrition and Dietetics (ACEND)
120 South Riverside Plaza, Suite 2190, Chicago, IL 60606-6995
1-800-877-1600 extension 5400
ACEND website
---
I am very grateful for the professors at LLUSPH who challenge me and provide continual learning opportunities. They care for their students beyond academics and encourage us to be the best versions of ourselves in all aspects.

–Briana Hewitt, MPH-RD Nutrition student
---
Mission: The mission of the Nutrition and Dietetics Program is to prepare students to become competent entry-level dietetic professionals to meet Seventh-day Adventist and other global needs. We do so with a commitment to further the healing and teaching ministry of Jesus Christ "to make man whole."
Program Goals
Program Goal 1: The program will prepare students to be competent graduates who are eligible to write the Registration Examination for Dietitians to become entry-level practitioners.
Program Specific Objective:
       a. The post-graduate surveys will reflect that 80 percent of graduates are utilizing skills to promote health and/or prevent disease.​
ACEND specific objectives
      b. Eighty percent of students will successfully complete 100% of specified degree requirements within 150 percent of expected degree completion.
      c. The program's one-year pass rate (graduates who pass the registration exam within one year of first attempt) on the CDR credentialing exam for dietitian nutritionists is at least 80%.
      d. Seventy percent of employers will rate the preparation of graduates of the Coordinated Program in Nutrition and Dietetics as satisfactory for entry-level practice.
      e. Eighty percent of program graduates take the CDR credentialing exam for dietitian nutritionists within 12 months of program completion.
Program Goal 2: Provide professionally-trained Registered dietitians with either an emphasis in medical nutrition therapy or public health nutrition who may be employed by or contribute to the healthcare and educational systems of the Seventh-day Adventist Church, or local, national, or international entities.  (Students in SAHP are educated with an emphasis in medical nutrition therapy.  Students in SPH are educated with an emphasis in public health nutrition.)
Program Specific Objective:
      
      a. Sixty percent of Program graduates will contribute to the community and/or provide professional leadership in the field of Dietetics within 5 years of graduation.
ACEND specific objective
      b. Of graduates who seek employment, 80 percent are employed in nutrition and  dietetics or related fields within 12 months of graduation.
Program Learning Outcomes
Describe the integration of biological mechanisms underlying the effect of food and nutrients on individual and population health outcomes.
Function independently and collaboratively as a leader or member of a team to plan, manage, and evaluate public health nutrition interventions.
Critically analyze studies and nutrition and dietetics evidence-based guidelines for public health prevention, nutrition interventions, and research.
Evaluate public policies and processes related to food and nutrition, and explore their impact on health outcomes.
Examine the role of vegetarian dietary practices on human health, the environment, and ecology.
Apply the nutritional care process consistent with competencies defined by the ACEND.
How to Apply
Applications are to be submitted via SOPHAS (
www.sophas.org
) and Loma Linda University (secondary application supplied after submission of SOPHAS application). 
Please click the APPLY NOW button above to start the process.
Contact
cheskey@llu.edu
to review your prerequisites and if you have questions regarding the admissions process.      
Assessment of prior learning policy
Specific corequisites (NUTR 490, NUTR 526, DCTS 566, DTCS 575) may be waived at the discretion of the program director if certain criteria are met including:
The course(s) being substituted were completed as part of a DPD program or from a DPD program
The final grade for the course is a 'B' or better (All official transcripts are expected to be submitted to Loma Linda University prior to the first quarter registration in the program).
The course syllabus is submitted to the program director for instructor review and is approved by the instructor as meeting the expectations in terms of content and competencies. 
The university policy and procedures for course waivers are met. 
GPA: ≥3.0 on a 4.0 scale
References: ≥3 academic or employer
Prerequisites: general chemistry, organic chemistry, microbiology, anatomy & physiology, and human nutrition (or equivalent)
As part of the application process, applicants may be invited to participate in our interview process.
International applicant
TOEFL
Evaluation of international transcripts.
Pre-entrance health requirements/Immunizations 
TB/PPD skin test
Hepatitis B vaccine
Varicella vaccine
TdaP
Tetanus/Diphtheria booster (within last 10 years)
MMR
Other health requirements/Immunizations for rotations
Hepatitis A vaccine 
COVID-19 vaccine – learn more
Units
Cost per Unit
LLU Quarterly Fee
Average Completion Time

67+

$895

$910

2.25-3 years
(9 quarters)
Program Costs (2020-2021)
Up-to-date program costs are available on the School of Public Health financial information catalog page http://llucatalog.llu.edu/public-health/#financialinformationtext
*Basic Life Support certificate is required for duration of the program – has to be an American Heart Association (AHA) course. The course is available on campus.
**Students are responsible for providing their own transportation to and from supervised practice sites.
Financial Aid, Scholarships, & Assistance
Information on financial aid can be accessed through student services.
Federal Work-Study positions are available for students. More information can be found here.
Graduate assistanceships: Occasionally positions may be available for students to assist faculty with research or teaching.
Scholarships: Information on scholarships is available through the Loma Linda University Financial Aid office, and also through the School of Public Health Finance office.
We are pleased to announce that the GRE requirement for both master level and doctoral level programs are being waived for this academic year. This applies to any applications for the Winter 2021, Spring 2021, Summer 2021, and Autumn 2021 terms.