Soy milk has similar benefits to dairy products in reducing the risk of osteoporosis among postmenopausal women, study shows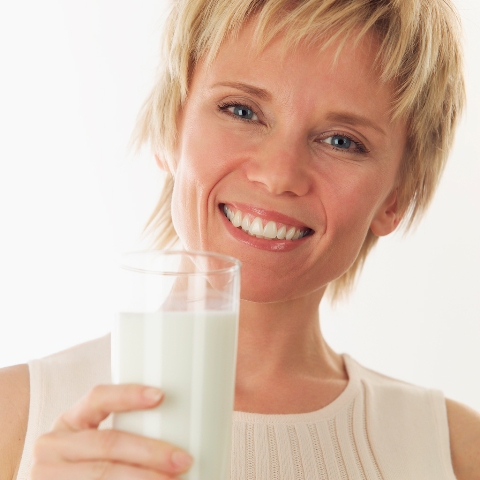 By Barry Manembu
February 8,2012
LOMA LINDA, Calif.– Postmenopausal women may consume soy milk as an alternative to dairy products for the protection of osteoporosis. A study conducted by scientists at the Adventist Health Studies, Loma Linda University, recently published in Nutrient Research, found that soy milk is comparable to dairy products and, therefore, appear to be beneficial for bone health.
Osteoporosis or low bone mass is one of the most common medical conditions in the United States, especially among postmenopausal women. An estimated 8 million women in this country have osteoporosis, which increases their risk of having fractures and subsequently decreases their quality of life.
Dairy consumption has been promoted by some as essential for maintaining good bone health, yet the consumption of dairy products has decreased over the last decades. Instead, alternatives to dairy, especially soy-based products, have become prevalent and are widely consumed as an alternative drink among those who avoid using milk products (i.e., vegans and those with lactose intolerance).
"Soy milk contains non-steroidal phytoestrogens that studies have strongly suggested to have protective effects against age-related bone loss and other chronic disease. Soy phytoestrogen has also been marked as an alternative form of hormonal replacement therapy to prevent osteoporosis in the postmenopausal years," says lead author Vichuda Lousuebsakul Matthews, Dr.Ph.
"Soy milk is also commonly fortified with nutrient such as calcium and vitamin D. Yet, very little is known about the effect on bone health of this shift from dairy to soy-based foods."
In this study, researchers used broadband ultrasound attenuation (BUA) – a common screening technique to assess bone mineral density and to predict the risk of bone fracture – to assess the heel bones or calcaneus of 337 postmenopausal white subjects of the Adventist Health Study-2 (AHS-2). These women, part of a calibration study or a pilot church clinic study, attended clinics in local Adventist churches two years after their initial enrollment with AHS-2, and had their calcaneal BUA measured.
Researchers then compared T-scores of the BUA measurements – a T-score of less than -1.8 is an indication of osteoporosis – with the data on food frequency questionnaire (FFQ) and lifestyle questionnaire furnished by the participants two years earlier. The results: there was a protective effect of soy milk almost identical in size to that of dairy products.
"Of all the dairy products, however, only cheese showed a significant protective effect on low T-scores when evaluated separately," explains Gary Fraser MD, Ph.D., principal investigator of AHS-2.
"These findings are similar to earlier findings of protective effects of cheese, and also proteins from vegetable sources among peri- and postmenopausal women in our previous cohort of Adventists. In that study,intake of cheese three or more times per week reduce the risk of wrist fracture by 58 percent. This could be due to the higher calcium and protein content per serving of cheese compared with milk," he continues.
"Both soy milk and dairy consumption are beneficial to bone health, showing an independent protective association with a low T-score when evaluated together. Whereas the protective effect of dairy products ranges from 14%-83%, the protective effect of soy milk is 11%-79%," concludes Dr. Matthews.
"Our findings on soy milk support the belief that soy isoflavones tend to reduce bone loss among subjects with low baseline bone density or those with low serum estrogen levels such as among postmenopausal women. Based on our findings, postmenopausal women could benefit from drinking soy milk and/or having regular intake of dairy products."
This research was funded by a grant from the National Cancer Institute (NCI), a division of National Institutes of Health (NIH), the federal agency for health research.
***
Adventist Health Study-2 (AHS-2) is one of the largest and most exciting health studies of its kind ever designed and will have national importance and international significance. It is a cohort study of over 96,000 Seventh-day Adventists in the U.S. and Canada who enrolled between 2002 and 2007. Adventists, due in part to their unique dietary habits, have a lower risk than other Americans of heart disease, several cancers, and probably high blood pressure, arthritis, and diabetes. This, along with their wide variety of dietary habits, provides a special opportunity for careful research to answer a host of scientific questions about how diet (and other health habits) may change the risk of suffering from many chronic diseases.
Two previous studies on Adventist health involving 24,000 and 34,000 Californian Adventists have been directed from Loma Linda University over the last 40 years. These have been among the first to raise scientific awareness of the close relationship between diet and health. This groundbreaking work has brought visibility and accolades to the lifestyle recommended by Seventh-day Adventists from both the scientific and lay communities. AHS-2 is conducted by researchers at Loma Linda University School of Public Health. For more information, visit www.adventisthealthstudy.org.