Loma Linda University-Inland Empire Breast Cancer Alliance (LLUIEBCA)
Demographics | Statistics | Research | Key Findings | Publications
Demographics
The Inland Empire Affiliate serves more than 4 million people living in Riverside and San Bernardino Counties hosting 27,000 square miles of diverse geographic terrain from mountains and valleys to below sea level in the desert. The majority of the population is concentrated in the southwestern area of both counties. Many miles of the service area are national parks, military and desert.
There are approximately 2 million women living in the Inland Empire. Within the female population the breakdown is: Hispanics 43%; White 41.2%; Black 7.2%; Asian Pacific Islanders 5.4%; American Indian 0.5%; all other 2.6%. The median household income is $50,884 with 11.6% of households having income below poverty level. 24.1% of females 18-64 are uninsured. (Cancer Registry Seer, Region 5). For uninsured/underinsured women 40 and over, the State of California has Cancer Detection Programs-Every Woman Counts ('CDP-EWC'). Under this program, qualifying women (women aged 40 and older and 25 and older, for cervical cancer and have an income at or below 200% of the federal poverty level) are offered clinical breast exams, mammograms, pelvic exams and Pap tests. 'CDP-EWC' is funded by a federal grant and state tobacco tax revenue. In addition, symptomatic uninsured/underinsured women under 40 years of age can access the Inland Empire Affiliate Komen grantees programs that provide diagnostic breast health services.
The Inland Empire Affiliate's service area is San Bernardino and Riverside Counties (including Coachella Valley) totaling approximately 27,000 square miles. Unlike most metropolitan areas that have grown up around a central city, the Inland Empire is composed of many small and medium sized cities and unincorporated communities that together form the 14th-largest metropolitan area in the nation. Los Angeles County and Orange County border the Inland Empire to the West; Inyo and Kern to the North, San Diego and Imperial County to the South and the States of Arizona and Nevada to the East. The Inland Empire stretches from the Los Angeles County - San Bernardino County border through the San Bernardino Valley, encompassing the San Bernardino Mountains and the high and low deserts to the Nevada and Arizona state lines. Figure 1 shows an outline of San Bernardino and Riverside Counties. Suburban sprawl, centering around the cities of Riverside, San Bernardino, and Ontario, spreads out to form a unified whole with the Greater Los Angeles area, with further development encroaching past the mountains into the outlying desert areas. The San Bernardino valley floor houses roughly over 80% of the total human population in the Inland Empire. San Bernardino is the largest county in the contiguous United States.
Elevations range from 11,499 feet (3,505 m) at the top of the San Gorgonio Mountain to 220 ft (-67.1 m) below sea level at the Salton Sea. The San Bernardino Mountains are home to the San Bernardino National Forest and the resort communities of Big Bear Lake, Lake Arrowhead, and Running Springs. The Santa Ana River extends from Mt. San Gorgonio for nearly 100 miles (160 km) through San Bernardino, Riverside, and Orange counties before it eventually spills into the Pacific Ocean. While temperatures are generally cool to cold in the mountains it can get hot in the valleys. In the desert resort of Palm Springs, near Joshua Tree National Park, summer temperatures can reach well over 110 degrees.
The developed area of the Inland Empire consists of the following valleys: Chino Valley, Coachella Valley, Cucamonga Valley, Menifee Valley, Murrieta Valley, Perris Valley, San Bernardino Valley (Largest valley in the Inland Empire), Temecula Valley know as Southern California Wine Country, and Victor Valley. The Inland Empire is popular for recreational activities such as skiing the San Bernardino Mountains, biking, hiking, camping in both the mountains and deserts. Additionally, resident and visitors enjoy off road vehicle entertainment, Nascar Racing, boating, tennis and golf.
The famous resorts of the Coachella Valley such as Indian Wells, La Quinta, Rancho Mirage, Palm Springs and Palm Desert are located in Riverside County.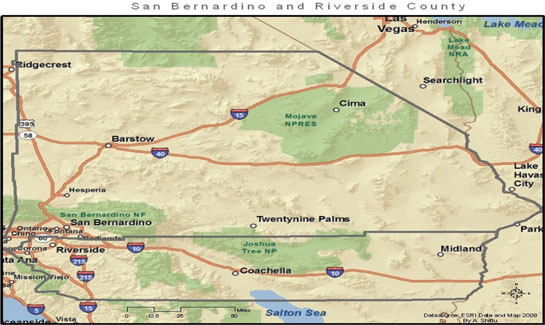 Figure 1 - San Bernardino and Riverside Counties outline by the grey border * Map provided by Health Geo-informatics Program Loma Linda University School of Public Health
Military Presence
March Joint Air Reserve Base (ARB) located in Riverside County, California between the cities of Riverside and Moreno Valley is the home to the Air Force Reserve Command's largest air mobility wing of the 4th Air Force. March ARB is also home to units from the Army Reserve, Navy Reserve, Marine Corps Reserve and the California Air National Guard.
The Naval Surface Warfare Center (NSWC) located in Corona, is a division of the U.S. Navy organization, under the oversight of NAVSEA. NSWC consists of 10 major divisions.
The Marine Corps Air Ground Combat Center (MCAGCC), also known as 29 Palms, Twenty nine Stumps, or simply the Stumps, is the United States Marine Corps' largest base. Officially known as Twenty nine Palms Base, California located adjacent to the city of Twenty nine Palms in southern San Bernardino County, California.
Education in the Inland Empire
Universities
University of Redlands, California State University, San Bernardino, California Baptist University, University of California Riverside, Claremont Colleges, The Peter F. Drucker and Masatoshi Ito Graduate School of Management, Loma Linda University, University of La Verne, University of La Verne College of Law, La Sierra University, and Cal Poly Pomona.
Colleges
Crafton Hills College, Riverside Community College, San Bernardino Valley College, College of the Desert, Chaffey College , Copper Mountain College, Victor Valley Community College, Palo Verde College, Barstow Community College, Mt. San Jacinto College, and Community Christian College.
School Districts
See appendix for list
Casinos/Native American Healthcare Clinics
A total of 12 casinos exist in Riverside County and 3 in San Bernardino County. (See appendix for complete list). Unique to the Inland Empire is the number of gaming/casinos throughout the service area.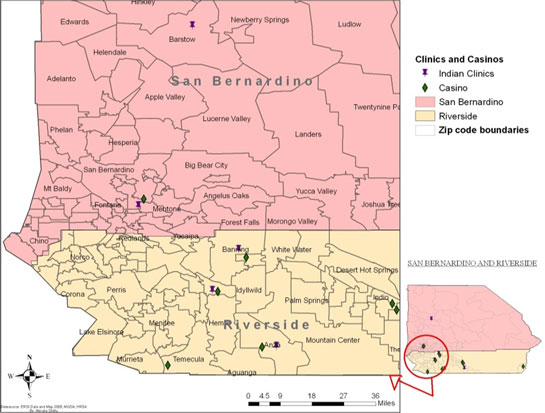 Figure 2 - Casinos and Indian Clinics, allowing us to show their location to one another. * Map provided by Health Geo-informatics Program Loma Linda University School of Public Health
Purpose of the Report
The Community Profile will update demographics and breast cancer statistics in order to identify new and/or previous gaps in services and barriers within our service area. New gaps and barriers will be analyzed to pin point "target areas" where Komen's efforts will have the most impact. These gaps in services are incorporated into the annual RFA (Request for Application) as possible pilot or continued projects of importance therefore, establishing focused education and granting priorities. An important component of the profile is to document existing resources so that efforts supported by Komen are non-duplicative. The Community Profile serves as the "road map" for the Affiliate through 2011.
It is essential to be aware of available community assets that can be evaluated for future partnerships and collaborations. Working together for solutions that improve health disparities, access to services and reducing mortality from breast cancer is vital.
This document is available not only for health organizations, but donors, businesses and the population at large to understand the breast health needs in their community and how they can assist the Affiliate and further the Komen Promise: to save lives and end breast cancer forever by empowering people, ensuring quality of care for all and energizing science to find the cures.
Statistics
The statistical data mentioned here in this descriptive analysis is provided by the 11th and14th Desert Sierra Cancer Surveillance Program (DSCSP) report of the Inyo, Mono, Riverside and San Bernardino counties, Region 5 of the California Cancer Registry (R5CCR). Approximately ninety-nine percent of the DSCSP population resides in the Inland Empire (Riverside and San Bernardino counties). The DSCSP area covers approximately 210 miles across its widest point (east to west), and about 450 miles long (north to south). In total the DSCSP area is as large as the combined states of Massachusetts, New Hampshire, Rhode Island, New Jersey, Maryland and Delaware. The DSCSP is operated by Loma Linda University Medical Center, affiliated with Loma Linda University, under a contract with the Public Health Institute. This report covers the years 1988-2007 and utilizes data for new cancer cases accessioned into DSCSP active database prior to 5:00 pm on April 10, 2009 and cancer mortality data taken from the death certificate master file of the California Center for Health Statistics.
Between 2001 and 2005 approximately 10,000 invasive and 2,000 in situ breast cancer cases were reported in the DSCSP women. Although R5CCR data reveals that the age adjusted rate of 23.7 per 100,000 women for in-situ breast cancer cases in the DSCSP population is lower than the state-wide rate of 27.3 per 100,000 women, the number of in-situ breast cancer cases for the DSCSP women went up from 9.6 per 100,000 women in 1988 to 24.8 per 100,000 women in 2007(Fig 57). HOW COME THE TWO NUMBERS ARE DIFFERENT?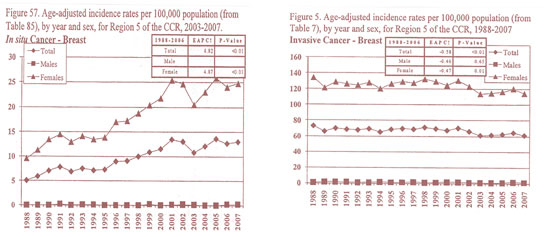 Figure 3 - Age-adjusted incident rates per population
This increase in the number of in-situ breast cancer cases could be due to increased screening and better detection methods. However as seen in (Fig. 5) the incidence rate for invasive breast cancer has been dropping from 1988 to 2007 in the DSCSP women.
The DSCSP age-adjusted death rate of 25.4 per 100,000 women for invasive breast cancer was significantly above the California average of 22.8 per 100,000 women between the period of 2003-2007 (Table 98 and 99). However, a statistically significant downward trend in age-adjusted cancer mortality rates of 32 per 100,000 women has been observed for invasive breast cancer in 1988 which dropped to 25 per 100,000 women in 2007(Fig 6).
Figure 4 - Age-adjusted mortality rates per 100,000 population.
Risk Factors for Breast Cancer in the Inland Empire
Age: Women in the age group 40 and over showed strikingly increased number of invasive and in-situ breast cancer cases for the years 2003 through 2007. (Figure 57, Table 85). Approximately three-quarters of breast cancer cases during 2001 through 2005 time period were among women in the age group of 50 years or older.
Ethnicity: White women are slightly more likely to develop breast cancer than are Black women. However, greater proportions of Black women are diagnosed with later stage disease and have higher mortality rates, The death rates of DSCSP women was 34.3 per 100,000 women compared to 27 per 100,000 white women. The age adjusted incidence of invasive and in situ breast cancer was the highest (130.6 per 100,000 and 26.7per 100,000 women) in the non Hispanic White women respectively and 130.5 per 110,000 and 25 per 100,000 in Black women respectively. These were followed by Hispanic (83.7, 17.2) and Asian 76.9, 19.5 per 100,000 women for invasive and in situ breast cancer respectively Compared to Riverside County, the higher mortality rate for invasive breast cancer in Black women in San Bernardino County can be associated to the high percentage of population of Black women (9.33%) in this county than in Riverside County (6.29%). (Appendix D)
County: The incidence rates for in-situ breast cancer were 26 for Riverside County, 21 for San Bernardino County. The incidence rate for invasive breast cancer was 119.6 for Riverside County and 112.3 for San Bernardino County while the mortality rates for both the counties were 24.4 and 26.7 respectively. This difference in the mortality rates for this population is explained in relation with race-specific population in each county in the above paragraph. Among the three counties, the Inyo-Mono counties show the highest incidence rate for invasive and in-situ breast cancer, 107.0 and 29.7 (per 100,000) respectively.
Conclusion: Target areas (Riverside and San Bernardino) Maps were generated by the Geoinformatics division of Loma Linda University School of Public Health, to determine gaps in service areas. As observed in (Fig. 7), some of the areas with the most concentration of Black population lack health care facilities and resources. These include Twenty-nine Palms, Newberry Springs, Edwards, Helendale, Adelanto and Phelan in the San Bernardino County and Corona, Palm Springs and Murrieta in the Riverside County.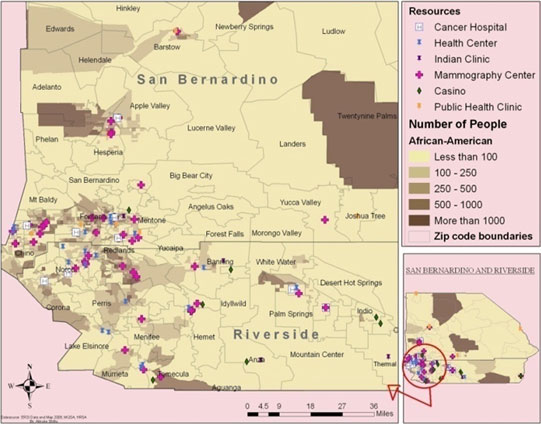 Figure 5 - Distribution of Black/African American population and health care facilities/resources in the San Bernardino and Riverside Counties.
* Map provided by Health Geo-informatics Program Loma Linda University School of Public Health
The two groups with the most uninsured members are Latinos and African Americans. Agriculture demands in the Coachella Valley demonstrate a growing Latino population which faces socioeconomic challenges which contribute to disparities in access to screening and treatment while 80% of the population lives in the southwestern area of both counties with a fair amount of services available, in the outlying valleys, mountains and in the desert cancer services are limited. The increasing trends in the incidence of in situ breast cancer and the downward trend of death rates of invasive breast cancer in the DSCSP women suggests that the incidence rate can be further reduced by continuing to improve breast cancer screening and early detection, especially among Black women.
Research
Description of the Unique Breast Cancer Experience in the Inland Affiliate
Collectively, these incidence and mortality patterns reveal the tragedy produced by a failure to detect breast cancer early in the natural history of the disease. The lower income and education levels of the San Bernardino County population are indicative of reduced access to medical services, including early detection of breast cancer. The pattern of lower risk of pre-invasive (in situ carcinoma) and invasive breast cancer, accompanied by higher risk of death from breast cancer are consistent with a failure to provide early detection and state-of-the-art treatment for this disease. Clearly, a greater proportion of the burden of breast cancer is experienced by Blacks/African American women in the Inland Empire. The National Cancer Institute defines "cancer health disparities" as "differences in the incidence, prevalence, mortality, and burden of cancer and related adverse health conditions that exist among specific populations groups in the United States." Disparities in health and services available are exemplified in the Inland Empire women and their families who have been touched by breast cancer.
Data Source and Methodology Overview
Inland Empire mortality and incidence rates 2001-2005 and screening data were obtained from the California Cancer Registry.
Inland Empire 2007 demographics estimates were obtained from Thomson Reuters© 2007.
Maps demonstrating resources within the Inland Empire were obtained from Loma Linda University, Geoinformatics Department.
When available, sources of data that offered actual data variables were used as the primary measure for analysis, i.e. cancer registry data. However, to examine the need of the area, estimates were drawn upon to update demographic or supplement breast cancer and breast health practices information.
Information regarding programs and services was gathered by the community profile committee members, Komen grantees, community clinics, healthcare organizations and other nonprofits as these entities represent entry into the community.
Key Findings
Women 40 and over are normally targeted for breast health education and screening and this group consists of 39.4% of the female population or 803,182. In 2007, within this group 70.7% (567,850) of women did not have a mammogram in the last 12 months from cited reasons such as chose not to, didn't have time, didn't need or just no without a reason. Information above is cited from Thomson Reuters © 2007.
The highest risk factor for breast cancer is being female and growing older. The majority of women diagnosed with breast cancer are over the age of 50. Early Detection of breast cancer is the key to survival.
African American women have the highest mortality rate from breast cancer in the Inland Empire. Less than 1% of men residing in the Inland Empire are diagnosed with breast cancer. (Cancer Registry Seer, Region 5)
Early Detection of breast cancer is the key to survival.
Exploratory Data Overview
The Affiliate distributed and submitted all individual surveys to the Loma Linda School of Public Health and partnered with grantee at Loma Linda University to review data from recent clinical trial focus groups.
Individual Surveys
Individual Surveys were distributed by e-mail to volunteer and survivor databases, personally handed out at health fairs and via our grantees to their clients. A total of 230 individual surveys were collected and students at LLU School of Public Health compiled and analyzed the data. The data was then analyzed by MPH student intern and the Associated Director of Epidemiology and Biostatistics Dept.
Clinical Trials Educational Workshop
A descriptive analytic study at Loma Linda University was used to evaluate knowledge, attitudes and practices toward breast cancer clinical trial participation. Seven focus groups comprised of 10-12 persons per group were selected to represent important dimensions of knowledge and experiences that included a total sample size of 60 women. The groups included healthy women, breast cancer patients, breast cancer survivors, minority health care providers and community advocates. We used a knowledge, attitudes, behavior and perception-based questionnaire to assess changes before and after the educational experience.
Clinical trials are research studies that cancer patients undergo to find out if promising approaches to cancer prevention, diagnosis and treatment are safe and effective. Clinical trials provide the best in standard care and promising new therapies. Unfortunately, less than 5% of all eligible people with cancer participate in clinical trials. Medically underserved populations who experience a greater burden of cancer are even less likely to participate in clinical trials. A breast cancer clinical trial education program for black women in the Inland Empire was developed to bring together African American women touched by breast cancer, community advocates, scientists, physicians, and other healthcare workers and providers from Inland Empire to understand the importance of participating in breast cancer clinical trials. Goal was to eliminate breast cancer health disparities among underserved women in the Inland Empire.
Key Findings
Although more women are aware that early detection saves lives, all women need to be more diligent and implement the following Komen recommended breast self-awareness (BSA) program in their life.
Know your risk
Talk to your family to learn about your family health history
Talk to your doctor about your personal risk of breast cancer
Get screened
Ask your doctor which screening tests are right for you if you are at a higher risk
Have a mammogram every year starting at age 40 if you are at average risk
Have a clinical breast exam at least every 3 years starting at 20, and every year starting at 40
Know what is normal for you
See your health care provider right away if you notice any of these breast changes:
Lump, hard knot or thickening
Swelling, warmth, redness or darkening
Change in the size or shape of the breast
Dimpling or puckering of the skin
Itchy, scaly sore or rash on the nipple
Pulling in of your nipple or other parts
Nipple discharge that starts suddenly
New pain in one spot that does not go away
Make healthy lifestyle choices
Maintain a healthy weight
Add exercise into your routine
Limit alcohol intake
A definite need exists for Komen to increase awareness in all age groups of women and men, communicate our promise and inform the community how we are making a difference in the lives for those dealing with breast cancer. Noted in the individual surveys, 20% or more of the respondents in different age groups did not recognize Susan G. Komen for the Cure. TV/Media is a challenge in the Inland Empire Affiliate. All news coverage and reporting in Inland Empire comes from the greater Los Angeles area. Currently there are no TV relationships except with the local cable venues. The main avenue is print media in major newspapers, magazines, local papers and radio.
It is important to educate women about the basics of clinical trials and how to make informed decisions about participation. Clinical trials education and participation is vital in order for research to improve cancer treatment and quality of life outcomes.
Publications
a) Uppala's
b) Other